Yoga and questionable music choices
After several failed attempts, I finally went for my first yoga class in over a month. It isn't that I was particularly lazy. I spent a month with my family in India and found it hard to keep practicing when I had very little control over my life. I finally came back in the beginning of this month but life circumstances since have made even eating one meal a day challenging. But yesterday, resolved to start a routine, I left for my favorite Yoga teacher's class at the Amherst Yoga Center at 5.30 PM. To my dismay, my bike had a flat tire so I skipped the yoga class to walk my bike to a bike shop which is close to home. But this failed attempt at re-starting my Yoga routine only strengthened my resolve.
So this morning, I woke up with a purpose: if I could get to Yoga then maybe I could get other things under control too. I grabbed my estranged Lululemon Yoga mat and earphones and launched out of my house at 8.30 AM. Dressed in questionable workout gear, I listened to my usual music playlist which is almost entirely composed of songs by Three Days Grace.
I landed at the Yoga center barely in time for class and found a spot to spread open my mat. As is customary, Patty's class was packed but I was lucky to find a non-embarassing spot. This is important, you never want to be in front of the class because if you are anything like me, you will mess up the asanas a bunch and wish no one notices as you do an awkward intersection of downward dog and plank.
I am usually very mindful of the peaceful setting in a Yoga class. So, I turned my phone to silent, removed the ear phones from the phone jack and sat down waiting for the fun to start. Patty began in her soothing voice urging us to be aware of our breath and consciousness. I began to relax. I've been told my forehead wrinkles like a pug's because I am thinking needlessly. Patty reminds the class to ease the lines on their forehead and I smile..
That very moment of joy was interrupted when I realized that my phone was suddenly blaring Three Days Grace's "You don't get me high anymore". It all happened in slow motion, I was clinging on to the moment of relaxation, refusing to believe that my phone could make any sound, let alone play strange music in public. In the next few seconds, I was almost curious as to who in the room liked the same music as me. And then came the shocking realization: this was my phone. I was making the entire class listen to "used to take one, now it takes four, you don't get me high anymore.." as they were learning to be at peace with themselves. In disbelief, I grabbed my phone and turned it off. I still do not know how this happened, I had not touched the screen, it was a foot away from my mat. Having faced the grave embarassment of this situation, I was only too eager to close my eyes and begin the pranayama.
Aside of this, it was a very nice class. I walked back home experiencing the beautiful fall foliage, thinking of the possibility of a less painful existence hopefully in the foreseeable future. Here is a picture of the road that goes home, littered with lovely orange leaves: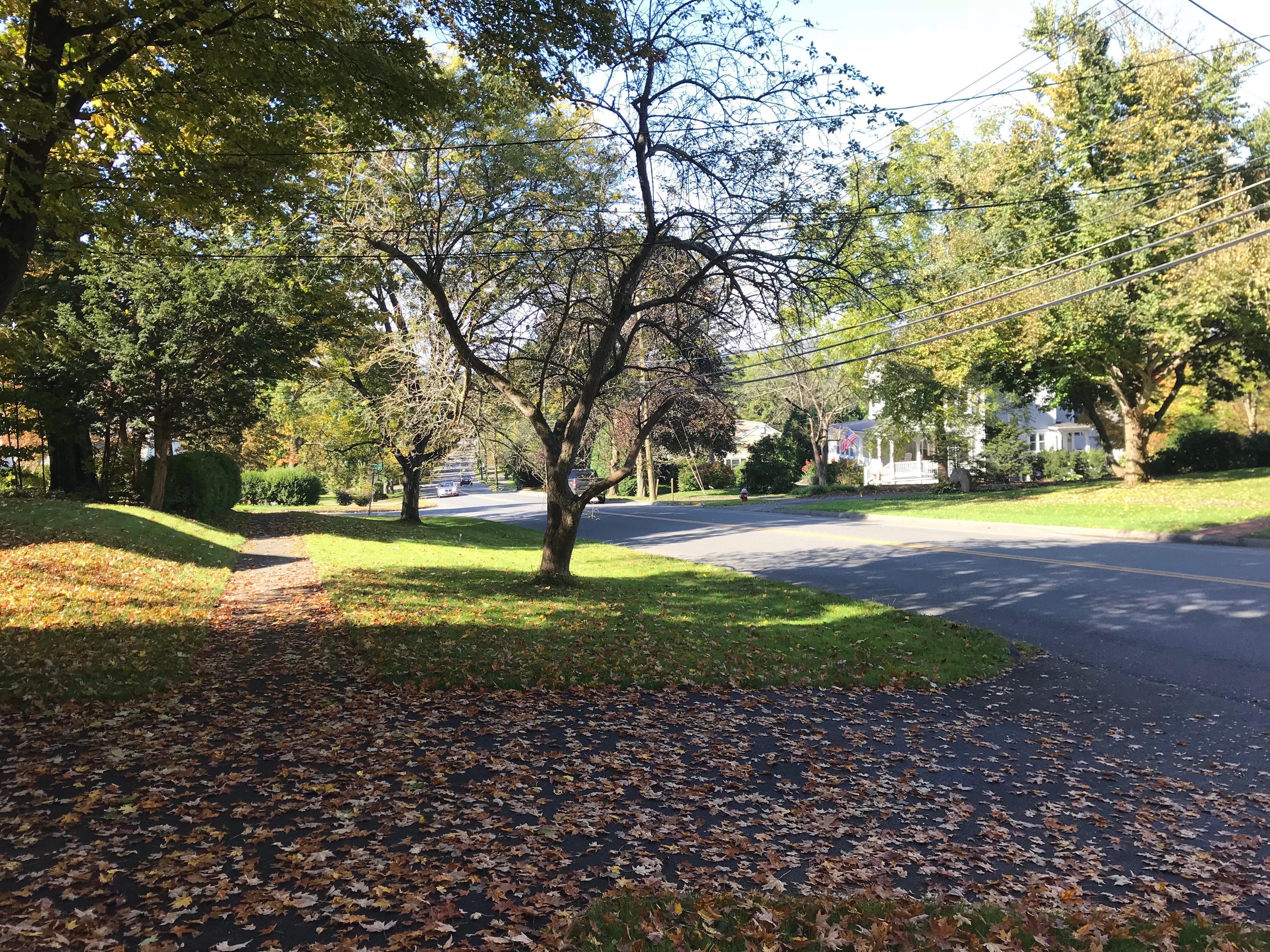 I picked up my bike on the walk home and was delighted to know that it was as good as new! Biking is still one of the nicest feelings I experience in my daily routine. I reached home and checked the mailbox to find something I had been dreading. The masochistic part of my brain forced me to tear open the letter I had just received and I read it in a frenzy. The small joy brought by that morning's activities rapidly disappeared leaving behind nothing but cold and darkness. I run inside the house, find the small blue box with the tiny trinket inside and disintegrate to pieces.